We wish all our customers, members and volunteers a very merry Christmas! 
Please click here for our Christmas and New Year opening hours.
Community Café Opening Times
Please note, our Shop opening hours are NOT the same as the Café and Google Search doesn't allow us to display both.  Our Café hours are stated below, but may vary, a) if we have a shortage of volunteers and b) because we sometimes prioritise community events.  If you are travelling a long way and want to check, or make a group booking, please call us on 01608 682838.
With a fair wind, the Café should be open:
Tuesday to Friday - 9.30 to 4.30
Saturday - 9.30 to 4
Sunday and Monday - closed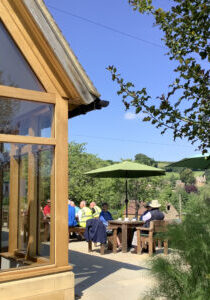 A warm welcome to
Ilmington Community Shop & Café
The cooperative at the heart of our community in one of the loveliest villages in the Cotswolds.
At the Heart of the Village
Ilmington is one of the prettiest of Cotswold villages, and our community shop is at the heart of village life.  You'll find us in the old Catholic Church building on Upper Green, with views towards rooftops and Cotswold hills. Manager Michele Hall (assisted by Laura Groves) leads the team of local volunteers, all ready to greet you with a smile. 
The first thing you should notice inside the shop is the personal welcome. It's the volunteers who bake croissants at the break of day, sort out the daily newspapers and stack the shelves. It will usually be a volunteer who serves you at the till. All our staff are happy to chat and help you find what you're looking for: we are genuinely proud of our shop, and our village too.
In fact, Ilmington Community Shop is owned by the community it serves and run as a cooperative for the benefit of the community. During the recent pandemic, it has been a lifeline for those residents who are vulnerable or shielding.  In normal times, our shop and café are a favourite destination for visitors, cyclists and walkers: after all, we have a dozen stunning walks from our doorstep.
We try to use local suppliers wherever possible, whether for fresh vegetables, bread and eggs, or handcrafted gifts and locally-brewed spirits.  We also sell essential grocery items at reasonable prices, so you can shop locally without the hassle of a busy supermarket.
Almost every Monday morning, you'll find Leigh McCall, the fish man, parked in front of the shop from 11.30am to 12.15pm. We are Leigh's first port of call from Grimsby, so why not buy your fresh fish and locally-grown vegetables from us at the same time? It's a very Ilmington way to start the week…
Volunteers Needed
A big thank you to all our wonderful volunteers, whether you work behind the till on a regular shift, help with deliveries, or belong to our out-of-hours cleaning team. 
If you have a few hours to spare each week, please come and see us or call Michele Hall on 01608 682838.
OPENING HOURS OF THE SHOP
Weekdays  7.30am - 5.30pm
Saturday  8.00am - 5.00pm
Sunday/Bank Holidays  8.30am - 1.00pm
OPENING HOURS OF THE CAFÉ
Tuesday to Friday about 9.30 to 4.30ish
Saturday about 9.30 to 4ish
Sunday and Monday not happening yet, sorry!
POST OFFICE
Tuesdays & Thursdays 2.00pm - 4.45pm
________
If you'd like to receive our regular emailed newsletter you can sign up here
We stock
Local Fruit, Vegetables, Bread and Cakes delivered daily  |  Local quality Meats & Pies  |  General Groceries  |  Household Products  |  Wines and Spirits  |  Local Beers & Ciders  |  Deli Delights  |  Sweets and Confectionery  |  Ice Cream Counter  |  Newspapers & Magazines  |  Stationery  |  Cards & Gift Wrap   |  Dry Cleaning Service  |  Shoe Repairs  |  DVD & Book Swap
Most days between 10am and 1pm there will be a volunteer available to give you a lift to the shop.
Telephone 682838 to find out more.